The first in the series Trust in Business, this part looks at definitions and inputs into the creation of trust.
Trust in Business
We can experience a deficit of trust in our daily lives, whether caused by our high expectations or failure by others. For Sustainability people, the Media provides many stories that highlight diminished trust in business, as well as showing significant consequences of lack of trust. Arguably, the news channels that any of us watch are more finely tuned to report lack of trust and failure than they are to report good behaviour and success.
Companies abusing trust and ignoring the importance of their social license to operate don't have a chance of survival. Only ethical behaviors and actions, addressing specific material issues and supported by honest conversations create trust and enable businesses to grow and prosper. This article will explore some of the important issues.
What is trust?
According to the dictionary, trust is a belief in the reliability, truth, or ability of someone or something. For some, it is based more on subjective feelings, intuition and experiences, while for others more on scientific-like observations / conclusions and drawn from known facts and figures.
Source: http://www.theguardian.com/media-network/media-network-blog/2014/oct/01/trust-brand-loyalty-naked-wines-debenhams
According to The Trust Equation by Charles H. Green it is a combination of credibility, reliability, intimacy and self-orientation. This looks like a robust framework – the sort of thing that companies can embrace as measurable. More than that, it helps to analyse trust somewhat from the perspective of business operations (e.g. what is communicated, how it is communicated and how honestly it is communicated) and from a customer's perspective (e.g. how actively your customers express their opinion publicly). After all, a simple Net Promoter Score won't tell a business everything it needs to know because it wont necessarily be based on long-term trust in a brand.
Trust is one of the most precious and fragile commodities on the world. It takes patience and a lot of effort to craft it, and also sell it … but one wrong move can destroy it forever.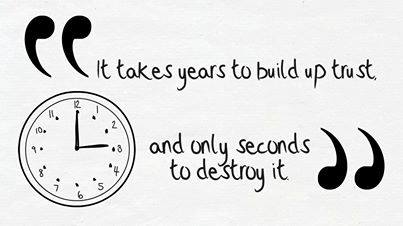 That's how it is in our personal life and, to some extent, business as well. We put our lives in hands of some strangers only to find out that their products have e.g. faulty brakes (Toyota). When things like go wrong, it is scary to think how much our lives depend on others, and the resulting lack of trust can kill businesses. Even though we may want to be living sustainable and self-sufficient lives it is just not possible. As Steve Jobs once said:
"You have to trust in something — your gut, destiny, life, karma, whatever.                                         This approach has never let me down, and it has made all the difference in my life."
It may make us feel vulnerable, but we are not powerless. We are more powerful than ever when it comes to trust! Access to information gives us power to make our own choices and influence the world we live in based on our own particular understanding of trust. And that is why companies must be more trustable now than ever. Their breaches of trust are more prominent, more dicoverable and more damanging than ever before.
We, as customers and sustainability practitioners, have a chance to learn the 'trust' lesson by observing what happens when companies disappoint their customers and how their fix their own mistakes.
Why is trust in business is so important?
As we all know trust is a bedrock of all relations, regardless if you are the boss, client or supplier… trust has incredible power to influence our daily choices.
From a business perspective trust is also a critical driver in building a brand, especially for direct customers. Customers who trust the brand make an unspoken and mostly emotional commitment and will continue buying trusted products and services in the future – the much desired 'brand loyalty'.
There are various reports that remind us about the importance of trust in business and encourage reflection of what can we do to rebuild public trust. The Edelman Trust Barometer, one of the longest standing research-based investigations of trust in a business environment, is one of the best available.
It's insights, based on more than a decade of research, concludes that 5 factors influence trust:
integrity,
engagement,
products and services,
purpose and
operations,
Each of those five areas has specific attributes, which result in trust being built. From among that list, integrity and engagement stand out as the most important influence on levels of consumer trust.

Consumer Buying Patterns
When it comes to consumer buying patterns, customers use trust as shown in the following graph. They buy from companies they trust and will pay more to do so, among other things.

http://www.edelman.com/insights/intellectual-property/2015-edelman-trust-barometer/trust-around-world/
---
This guest post is by Teresa Aldea, associate at valuecsr.
Teresa is experienced in managing CSR programmes for multinational companies from various sectors (financial, insurance, transport, food producers and manufacturers) and has already led projects in the UK, Egypt, India, Bahrain, France, Netherlands, US, Canada and Argentina.
---
Next in Part II:
In Part II we will explore the implications of losing trust, how it changes customer relations and what to expect if organisations keep letting customers down.
Related articles across the web